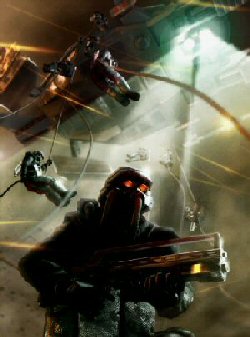 The first mission of the army's new elite Advanced Recon Commandos went off with little incident and much success.
In a covert action on the Imperial planet of Garqi, the team succeeded in retrieving the traitor ZiShin and the stolen materiel and data he was planning to turn over to the New Republic. In addition to extracting their target, the ARCs managed to unveil an elaborate NR espionage cell and deal it a heavy blow. It is assumed that Imperial authorities on Garqi are already moving to investigate the spread of this insidious network.
Upon return to Vast Empire space, the team cleaned up while the prisoner was given a quick physical checkout and severely interrogated. When deemed of no further value to the Empire, he was turned over by the High Council for termination by firing squad, an action performed at this week's meeting by the grateful ARC team. Check out the meeting log if you were unable to make it.